What are the parameters of my website that are not appropriate?
How can I be sure that I fully comply with the regulations in force?  
For a few years now, numerous regulations have been governing the advertising and digital marketing sector with the aim of reinforcing the security of Internet users.
However, it is not always easy to know all the specificities required and all the parameters that must be set up on your website.
Following the ePrivacy Directive, the GDPR(General Data Protection Regulation), as well as the CNIL guidelines, publishers had no choice but to adapt to the changes brought by these regulations and even more recently with the end of the CNIL moratorium in France on March 31, 2021.
For each of them, it was necessary to set up a system allowing the obtaining of a valid consent prior to the deposit of any cookie and to the access to the device of the Internet user. To meet this demand, most of them now use a CMP (Consent Management Platform).
This is a technological platform for information, collection and transmission of choices made by Internet users to ensure real protection of their personal data in the context of their online use.
A consent gathering solution that must be properly configured (presence of an opt-out mechanism; details on storage; information on the maximum retention period of cookies, etc.) in order to meet the various legal requirements.
But don't panic!
There are powerful tools that allow publishers to get an expert opinion on their website and to see more clearly if they comply with the laws in force.
These tools exist at Sirdata!
Indeed, thanks to the development of its own audit system, Sirdata now provides all website editors with a precise and complete answer to questions related to their online compliance.
The audit is not only intended for our partners but also for all editors who would like to have complete information about the compliance of their website.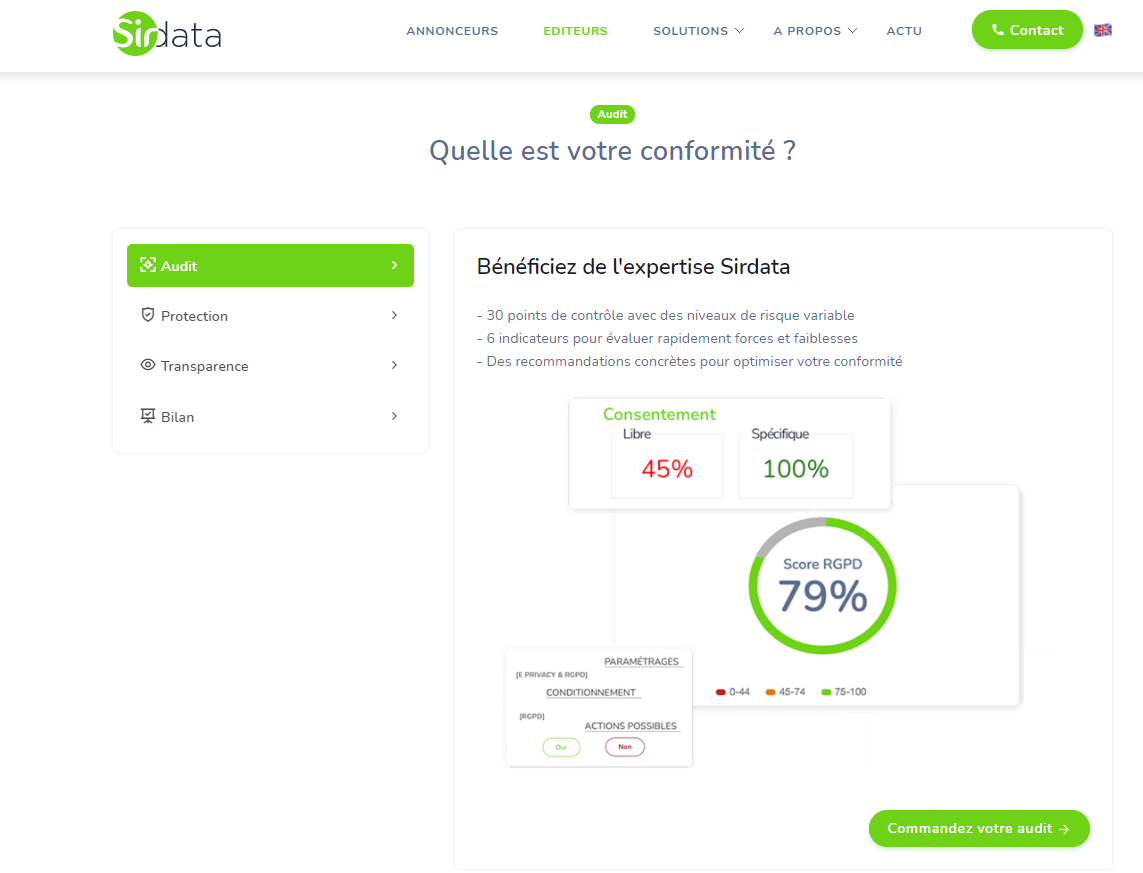 Gary Cohen, Senior Publisher and Partnership Manager at Sirdata, tells us his vision of the system:
"We built a complete audit that allowed us to ensure that site publishers comply with the laws in force regarding the protection of personal data when using cookies and other tracking devices.
Among the thirty or so control points, none have been automated, whether they are visual or technical controls. Our audits are carried out manually by our teams and allow us to obtain an RGPD and ePrivacy index out of 100 as well as a score directly linked to each character, allowing us to qualify the consent collected as valid.
We have chosen to provide the RGPD index free of charge within our portal to our publishers who use our CMP.
For those who want to receive the detailed audit with all the indices, the legal framework associated with each control point, the positive points and the possible failures to be corrected, you just have to order it.
In addition to the identification of deficiencies and the help provided by Sirdata to correct them, these audits offer publishers more serenity on the management of their consents.
Very often, editors tell us that this audit serves as a reference for them to talk compliance with their partners and adopt the right discourse with the right language."

Finally, thanks to this audit, we ensure a winning triptych: Protection, Transparency and Compliance, and this for a reduced cost (250 euros per site audited and only 100 euros for a site using our CMP).
You will have access to personalized recommendations to enable you to optimize your compliance!
With our advice, you will also be able to protect your business and limit any regulatory risk related to the use of personal data in the online advertising environment.
Finally, to ensure transparency, each of our answers is supported by the corresponding legal articles and jurisprudence.
Indeed, each law text, each Cnil guideline and each element pointed out by the authorities has been analyzed and transposed in the form of control points, allowing publishers to save precious time when checking their compliance.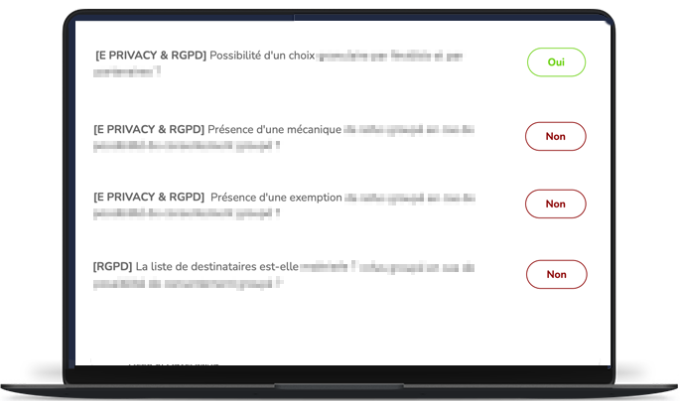 ---
All this will give you the essential keys to adapt your website quickly and give you peace of mind.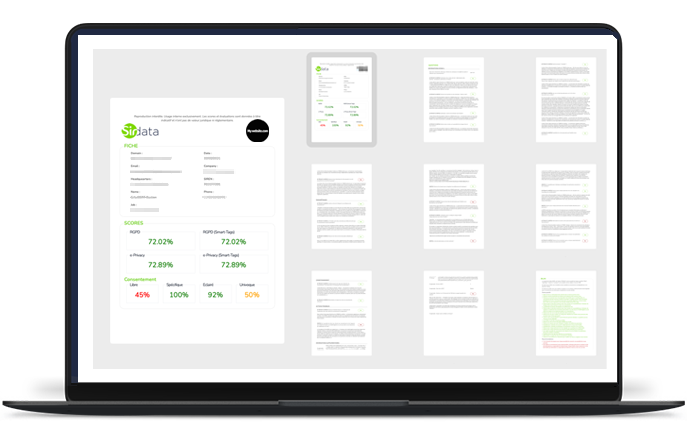 So, you too can benefit from our expertise!
---