Like Google before it, Microsoft has launched its own Consent Mode for tracking Bing Ads conversions!
Until recently, Bing's Universal Event Tracking (UET) tag relied exclusively on cookies and should only be triggered with the user's consent, in application of the ePrivacy Directive and CNIL Recommendations.
With the activation of its Consent Mode, Microsoft now offers the possibility of opting for these tags to operate without cookies when consent has not been given by the user.
The Sirdata team in charge of supporting publishers in managing the economic consequences of Internet users' choices is proud to announce that Sirdata CMP is the first Consent Management Platform on the market to have deployed Bing Ads Consent Mode support. !
When the publisher activates this option, free of charge like many others at Sirdata, the CMP will send Bing the signal that allows it to act automatically in traditional mode or in cookieless mode depending on the consent. This will allow continuity of the Bing service, always in accordance with the choice of the Internet user.
To configure it, nothing could be simpler: check the "Microsoft Consent Mode (UET) compatibility" extension in "Edit display" / "Advanced settings / Extensions" of the Sirdata portal, under the option support Native Shopify privacy: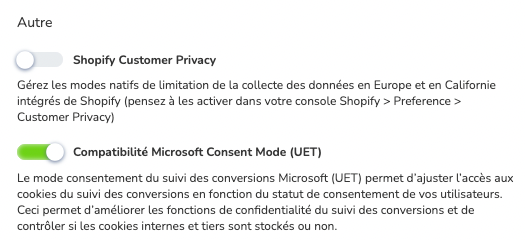 Sirdata continues to work with other Adtech players to deploy this type of option, and will soon announce other exclusive new features.