"Sirdata innovates alongside its customers."
Here are some of them !
In this second testimonial let's discover another partner?
Discover ABCBourse, one of our oldest partners.
---
Who are you?
Rodolphe Vialles, founder of ABC Bourse, one of the leading publishers specialized  in the stock exchange-finance category in France.
In addition to its media activity, which attracts between 3 and 4 million visitors per month, ABC Bourse is a supplier of technical solutions to key financial institutions such as Boursorama, BPCE, Indosuez, etc.
Why did you choose our CMP ?
We have been partnering with Sirdata since 2015 and have started working together on data subjects.
When Consent Management Platforms (CMP) came to the market, it was natural to add to this relationship this service and to continue to trust this innovative company, since we have been really satisfied with their services provided so far.
Was it easy to set up your new CMP?
Beyond the discovery phase, which is specific to each new product, Sirdata's teams really did everything they could to facilitate technical integration.
The documentation was rich but also very well organized, easy to understand for expert developer as well as a neophyte.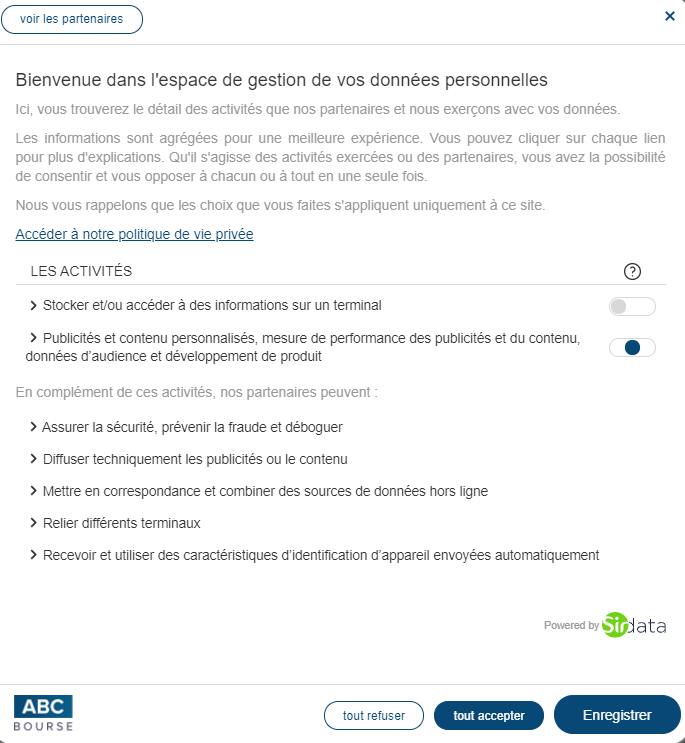 ---
How can you describe the support during set-up?
Simple and effective.
There were regular exchanges with the Sirdata teams, whether it was during phone calls to assist us or explain the CMP purposes, or by email.
As I said, the documentation has always been a strong point, rich and frequently evolving. Sirdata has really played an important driving role in the integration of the CMP into our website, but also in the relationship with Google within the Transparency and Consent Framework V2.0, even organizing tripartite exchanges between the web publisher and Sirdata.
What are, according to you, partnership's advantages ?
The advantages are numerous, but beyond the technical solution offered, the teams are really involved, efficient and pedagogue.
An excellent team that provides a product, we can't find any drawbacks!
---