"Sirdata, a solution with countless benefits".
Today, come and discover Creapills, one of our recent partners, who has accepted to take part in our question and answer game
---
Who are you?
I am Maxime Delmas, the founder of Creapills, the media of ideas that welcomes every month between 2 and 3 million visitors eager for creative discoveries.
How did you manage your users' consents before using our solution?
The truth is that before all this, I knew nothing about CMP and the regulations in force on the subject.
So I initially tested several services, starting with Quantcast and then Iubenda, but the solutions we proposed were always without any real support and some of them were very expensive.
Especially since, as I said, not being a CMP expert, the solutions I used were default solutions, which I needed out of necessity but not necessarily out of envy.
Why did you choose CMP Sirdata?
I found the Sirdata solution thanks to the IAB website, which recommended certain CMPs, including Sirdata's, and also because I've seen many sites use your solution.
Inevitably, seeing that it was used so much, it reassured me and I thought "why not try it"!

So it's since January 2021 that we have been in partnership and I'm happy to have finally found an adequate solution.
Was it easy to configure your new CMP?
The configuration was done very quickly, having an online interface to set up your CMP on your own is very pleasant and makes life easier.
Especially since the entire presentation was carried out live, over the phone, which really makes it easy to set up and have your CMP compliant in the blink of an eye.
Especially since in all the CMPs I've been able to install before, I've had problems with the settings that were never resolved and which prevented some control panels from working properly.
That's where the Sirdata team made a difference!
Since they really helped me identify the problems, something that I, as a novice in the field, surely couldn't have done.
Result: after a few email exchanges, everything was working perfectly!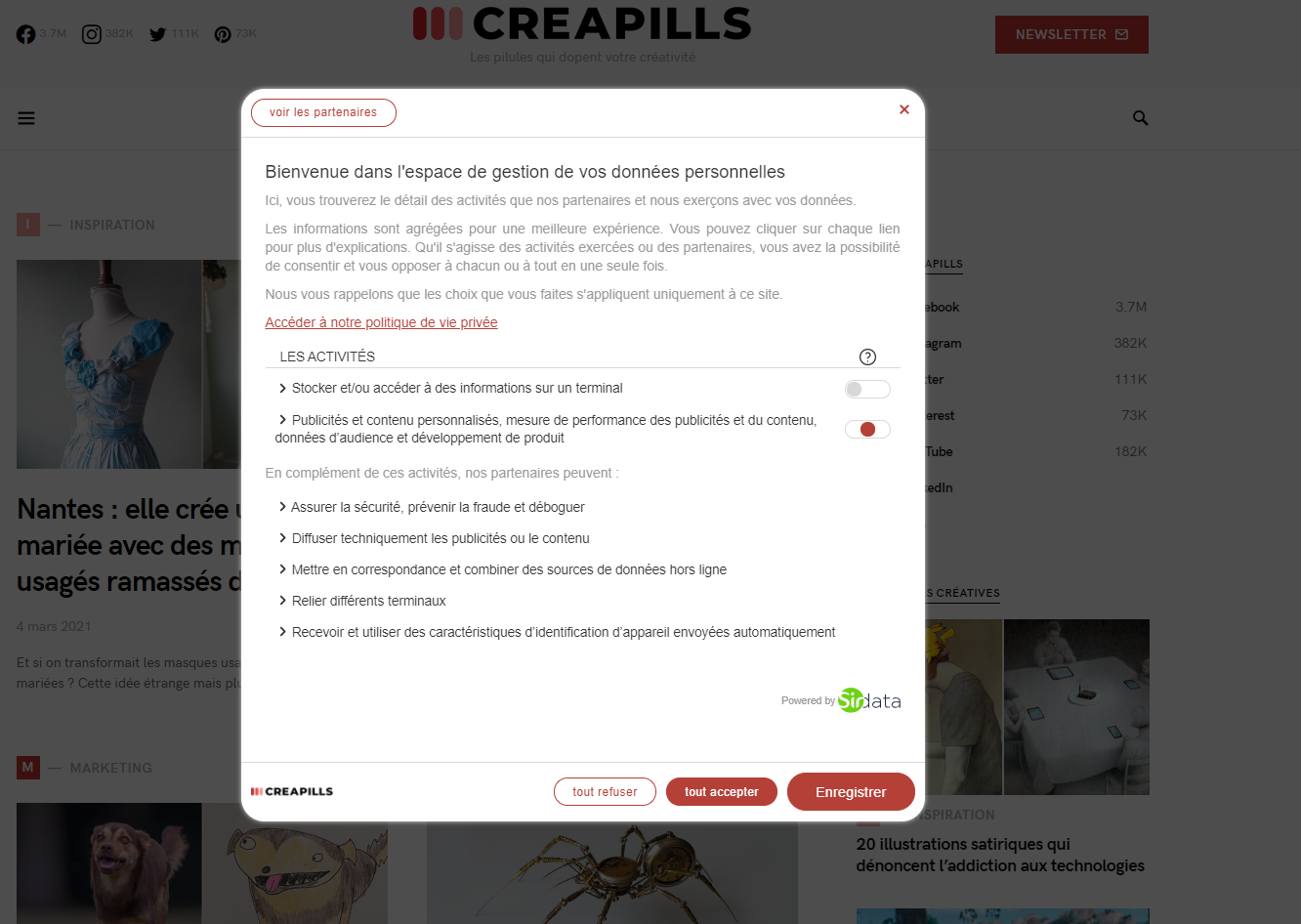 ---
How can you describe the support during setup?
The accompaniment was done in a very human and didactic way.
Especially since, as I was saying, what is very appreciable is that the team took a lot of time to explain the CMP issues to me by phone, for several hours if necessary, and all this in a very natural and personalized way.
Honestly, I am delighted with the exchanges I had with the team, especially after so many complications to finally find the ideal solution!
Then it's sure that compared to others, who don't even take the time to answer or explain the different functionalities, the support provided by Sirdata is simply great!
What benefits did you get from it?
In terms of knowledge, Sirdata has made me aware of the challenges in this area, especially as it is becoming necessary for my job to comply with all legislation.
Then by helping me to correct the configuration problems that were preventing certain control rooms from working properly on Creapills, I was clearly able to unlock and develop the revenues linked to these control rooms.
Finally, in terms of compliance, although I had never had any real sanctions from the CNIL until then, which meant that I didn't linger entirely on these subjects, knowing that today my site is in compliance with the regulations is much more pleasant and reassuring!
Can you say that you are satisfied with our solution?

You bet I am!
With your free solution, the integration process and the support behind it, you have an offer that has all the advantages today!
If I had to give a mark, I would give a 20/20 for this partnership!
---