With the Sirdata solution: no shadow in the sky!
Thank you to Gerbeaud.com for accepting to answer our questions about the Sirdata solution!
Come and discover the answers brought by Xavier Gerbeaud.

---
Who are you ?
I am Xavier Gerbeaud, founder and manager of the editorial site Gerbeaud.com.
I make sure that the site works well by accomplishing a wide variety of tasks, from programming topics to monitoring the audience, including SEO and technical architecture!
And what is Gerbeaud ?
Gerbeaud.com is an editorial site first known for its gardening advice, but which is now interested in everything related to the garden (nature and environment, animals, cooking with seasonal fruits and vegetables, natural health and well-being...).
It is aimed at all audiences, from gardening addicts to beginners, interested in both vegetable and ornamental gardens.
Today, Gerbeaud is one of the leaders in the home and garden universe, with 40 million visits in 2020!
---
How do you manage your users' consents before using our solution?
I've always been very interested in web-related developments and anything that could impact our business model.
In particular, I think that from the moment a site has visibility, it becomes necessary to be in compliance with the various regulations in force, and even more so when it comes to privacy and security of personal data of Internet users.

That's why, as soon as the GDPR was introduced, we quickly got information on the subject, and we decided to install Quantcast's CMP since it was capturing a lot of large media at the time.
I thought I had made the right choice, but I quickly realized that this solution was not very customizable, rather invasive, in short, that it was probably not the best compromise.
We then turned to the CMP of an advertising network specializing in header-bidding (technology that publishers, networks and advertisers can use to put their inventory on sale simultaneously on many Ad Exchanges via programmatic).
But since they are not in the business, we quickly realized that we needed to work with specialists in the field, who were available and always on top of the changes.
That's when we turned to the Sirdata solution...
---
And why did you finally opt for our CMP?

It's a question of professionalism and guarantee to our users!
We had already been in contact with Sirdata, but it was after trying these solutions, which were clearly not satisfactory, that we got back in touch with the Sirdata team, who had not stopped trying to contact us during all this time, and fortunately!
So we quickly exchanged again with the publishers team, who took the time for us and thus managed to put us in confidence with their solution.

For my part, what also played in the choice of the CMP Sirdata was the fact of being able to work with a French actor. Indeed, this facilitates the exchanges and sincerely in an environment like the digital one it is really appreciable.

So we didn't waste any time and by the beginning of May 2020 we had the CMP Sirdata set up on our website!
---
Was it easy to set up your new CMP?

More than easy!
We were told that the configuration of the Sirdata CMP was impressively simple, and indeed we were not disappointed!
From the moment we got in touch, everything was done very quickly and without any problem.
The deployment of the script is very simple, the solution is documented and there is support available if needed.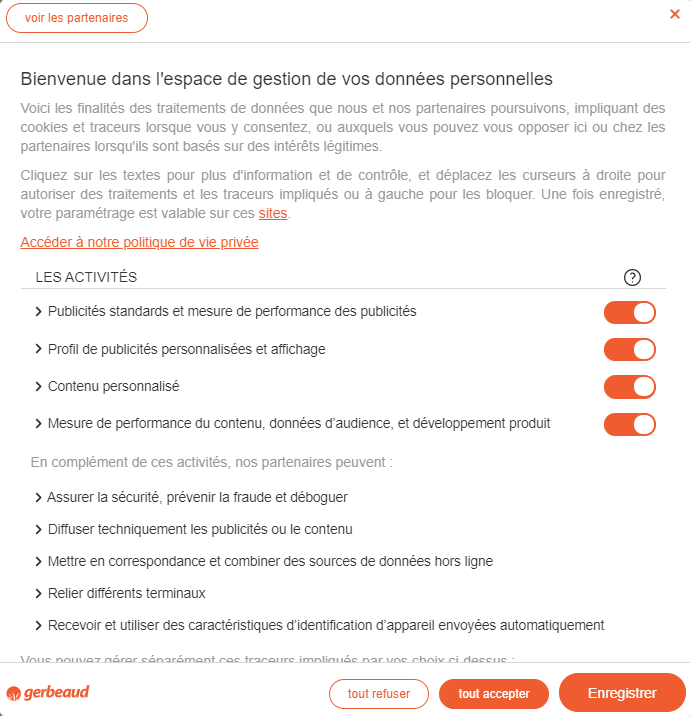 ---
How would you describe the support during the setup?
Really good! We exchanged all the time by email or by phone, in French, and always with a lot of reactivity!
As soon as we had questions on certain subjects we immediately got answers.
I remember that the period of transition from TCF V1 to TCF V2 required certain explanations and these were all given very quickly and with great clarity.

So even if I can't say that we needed a lot of support from Sirdata because of the simplicity of its solution, each exchange was at least very relevant and enriching.
---
What benefits did you get from it?

Peace of mind!
It's so reassuring to be assured that we are operating in full compliance, especially with the April 1, 2021 deadline.
In addition, we now know that we are guaranteeing our users real security regarding personal data and that is fundamental!
We are also lucky that our advertising agency works hand in hand with Sirdata and given the criticality of the consent rate in the valuation of advertising spaces, it is really important today to have players who communicate well with each other.
The other benefit of this partnership is also information and knowledge.
Indeed, because Sirdata does a real job of synthesizing and communicating on everything related to user data management (legislation, CNIL, cookieless solutions...), we often receive relevant emails on these subjects and it is really appreciable but also very instructive.
---
Can you say that you are satisfied with our solution?
Today, we have a clean solution, which works perfectly, which is totally adapted to our website and which is also compliant!
For the moment I can only say that there is no shadow in the picture.
And if I had to summarize Sirdata in a few words, it would be by saying that today, Sirdata is one of the key partners that allow us to carry out our activity with confidence and professionalism!
---