Regarding emergence of Native Advertising and Video, AdUx is launching Quast, and offering of native video advertising within editorial context, of more than 350 media partners.
---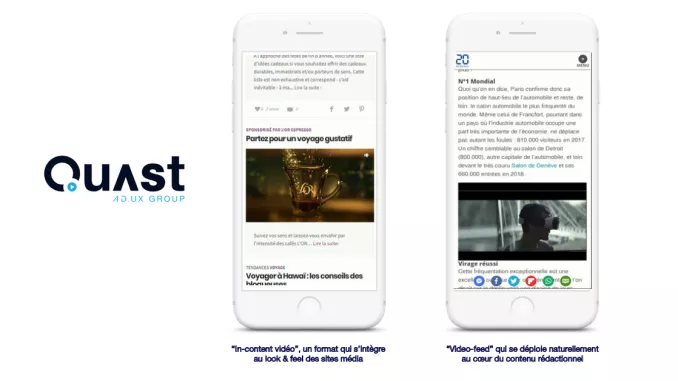 Two typologies are available in deskstop or webmobile : In Content Video wich integrated the look and feel of web sites and "Video-Feed" that unfolds in the heart of content.
Native advertising, can be a non intrusive and user friendly format, increases by 27% in 2018 compared to 2017. Video for it's part benefited from a +47% growth in investments in France. 2018 vs. 2017 (SRI observatory of the e-pub year 2018). By 2022, it will account for 80% of all Internet traffic (Cisco 2018 study). With this in mind, AdUX is launching Quast which combines these two formats in the service of a user experience always valued. Explains the company in a statement.
The solution enables publishers to create user-friendly ad spaces that the advertiser can use to maximize the effectiveness of their campaigns.
Two strategies are deployed to meet advertisers challenges: A media planning approach, which allows campaigns to be broadcasted in strong contexts and an audience planning approach , which ensures coverage on target with Sirdata.
Cyril Zimmermann, AdUX: « AdMoove prefers to collect less information but to reach as many people as possible »