On June 8th, ESV Digital and Sirdata were present at the Data Marketing 2021 day organized by Wizaly.
How to put data at the heart of your marketing strategies and boost your performance?
This was the theme of this data marketing day, during which various presentations were made by numerous data marketing and digital marketing experts.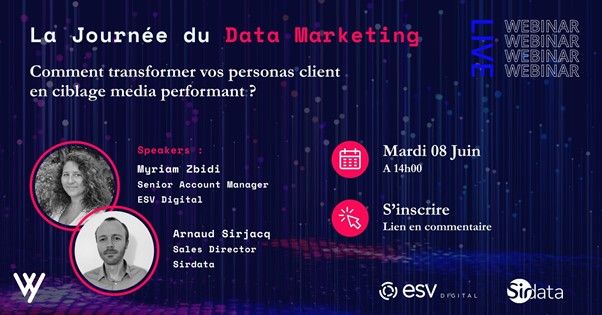 ---
Among them, Arnaud SIRJACQ, Sales Director at Sirdata & Myriam ZBIDI, Senior Account Manager at ESV Digital FR, gave a presentation on media targeting.
During this presentation you will find :
A reminder of the current market context, both technical and regulatory
Explanations on the different targeting typologies that can be activated in programmatic;
A section dedicated to how to integrate data into a successful media plan;
A case study on Thalys to illustrate each of these points.
---
Find the complete intervention here (FR):